Casino Games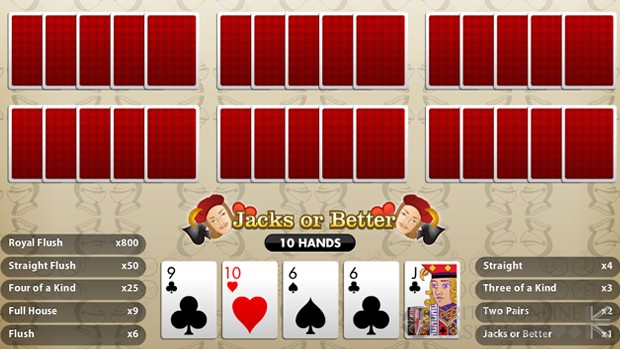 Published on November 13th, 2013 | by BritishOnlineCasinos
0
Online Video Poker
Although there are plenty of people who absolutely love slots, there are also those who simply don't find this style of gambling to be appealing. The most common reason is because they don't like playing a game that's 100% based on luck. People in that category prefer a game where they have at least some control over their play. Poker is a great fit for people who feel that way. However, even when it's done online, some individuals don't like the idea of sitting down at a table and competing against others.
Whether you find the idea of playing poker at a table to be intimidating or just aren't attracted to the social aspect of this style of play, if you wish there was another way to play poker, you'll be happy to learn that video poker likely provides exactly the type of experience you want.
What is Video Poker?
Even though it doesn't involve other players, video poker follows the standard rules of this game. Starting a round of video poker means you will be dealt five cards. You can look at those five cards, and then decide whether or not you want to return any of them for new ones. You can opt for 5 new cards, keep your entire hand or swap out any number between.
Once you're dealt any new cards you request, your payout will be determined by two factors. First, winning requires having a standard poker hand. That means you have jacks or better, two pair, three of a kind, straight, flush, full house, four of a kind, straight flush or royal flush. Second, if you have one of those hands, you will be paid based on its specific payout schedule, as well as how many "coins" or credits you bet.
For example, a two pair often has a payout schedule of 2. If you bet three credits, you'll be paid 6. But if you bet five, you'll earn 10 from the same hand. In addition to finding the right betting level for your playing style, the best approach for this game is to find a standard poker strategy that you feel comfortable following on a consistent basis.
Where Can You Play Video Poker Online?
Almost all online casinos offer video poker. Because it's such a prevalent game, the main challenge isn't finding an online casino that offers video poker. Instead, you need to find the right one. If you're wondering how to narrow down your choices, the best place to start is with the bonuses that potential casinos offer.
While the initial signup and deposit bonuses are important, you also want to look at what kind of incentives a casino offers to active members. You'll also want to be sure that they accept a deposit option that's convenient for you. Additionally, take a little time to confirm that they have a solid reputation and have plenty of safeguards in place to keep your account secure and your online video poker experience fair.