Casino Games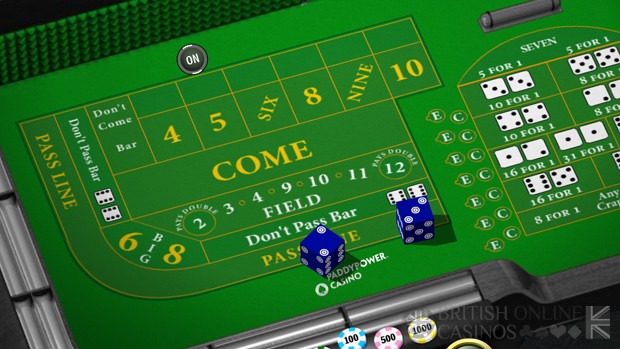 Published on November 13th, 2013 | by BritishOnlineCasinos
0
Online Craps
A craps table is one of the most recognisable games in a casino. But for people who haven't ever played this game, it can also be one of the most intimidating. Even though it looks like a lot of fun, attempting to decipher all the different information on the table may seem like an impossible task. If you're interested in trying craps but have always felt too overwhelmed to try it out, you're about to learn everything you need to know to be confident enough to start playing.
The Basics of Playing Craps
When you walk up to a craps table, you'll either see a black marker that says Off or a white one that says On. If the marker is black, you can give the dealer cash and they'll give you chips. An interesting aspect of craps is when you place a bet on the pass line, you're actually betting on whoever is getting ready to throw the dice. If the person throwing the dice hits a 7 or 11, your bet wins, and the person throwing continues.
If the dice come up 2, 3 or 12, all pass line bets automatically lose. And if it's any other number, the dealer will use the marker to note that number. Then the dice will be thrown again. If the marked number is rolled, pass line bets win. If it's any other number besides 7, the rolls continue. And if it's 7, pass line bets lose.
Two other types of bets that can be placed are a come bet or a bet on the don't pass bar. After the dice are initially thrown, a come bet can be placed. Then if a 7 or 11 are thrown, that bet wins. Placing a bet on the don't pass bar means if a 2 or 3 are rolled, that bet wins. And if the roll is a 12, instead of losing, the don't pass bet is a tie and you get to keep it. You can also make direct place bets on the 4, 5, 6, 8, 9 and 10 numbers on the table.
Start Playing Craps Without Any Outside Pressure
Not only does craps seem much more approachable once you understand what everything on the table actually means and what bets you can make, but there's an additional step you can take to get acquainted with this game without stressing yourself out. That step is to start by playing online. In addition to being convenient, the big advantage of playing online is you don't have to deal with all the external distractions of a traditional casino. Instead, you can create any type of environment you want at home, and then put all your attention on the screen in front of you.
Keep in mind that while it won't take you long to get a feel for craps, that doesn't mean you have to stop playing online. On the contrary, the more confident you become with your skills, the even more fun you'll be able to have playing online craps from your desk, living room or bed.