Casino Games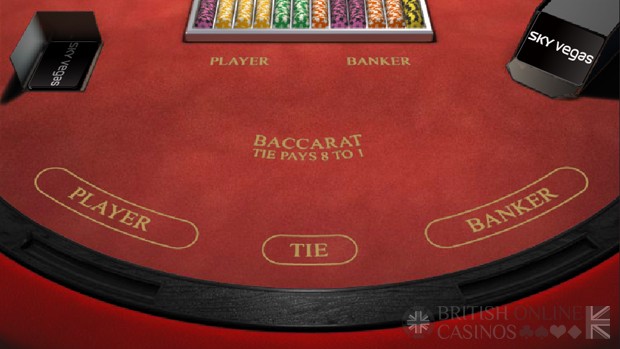 Published on November 13th, 2013 | by BritishOnlineCasinos
0
Online Baccarat
At first, baccarat may seem more difficult than other casino games. That assumption is why many players never try this game. As with any casino game, it does take a bit of time to get a feel for playing baccarat. But as long as you're willing to invest a little effort in learning baccarat, you'll not only get to enjoy playing a very exciting game, but you'll also benefit from playing a game with one of the smallest house advantages. In fact, the standard house edge is only 1.17%, which is considerably lower than many other casino games.
What is Baccarat?
Baccarat is a casino card game. It takes place between the banker and a player. Prior to dealing, the player bets on who will have a higher value that's closest to 9. The player can also bet on there being a tie. Once the bet is placed, the banker and player are each dealt two cards.
Cards two through nine have their face value. Aces are worth one point, while tens and face cards are worth 0. If a hand is worth 11 or more points, ten is subtracted. For example, a hand with 12 points is worth 2.
If the player or banker has a hand worth 8 or 9, a third card isn't dealt. If neither hand is 8 or 9 and the player's hand has less than 5, the player hits. Otherwise, the player stands. If the player stands and the banker has a hand worth less than 5, the banker hits. Once any necessary third cards are dealt, that hand concludes in either the player winning or losing their bet.
How Can You Play Online Baccarat?
If you're interested in trying baccarat but don't live near a casino or aren't comfortable visiting one, you can actually enjoying playing this game from the comfort of your home. Thanks to the availability of online casinos, you can get signed up and start playing in no time.
When it comes to choosing an online casino, bonuses and security should be the two main factors in deciding which one to pick. Opting for a casino that offers generous bonuses and has a reputation for protecting their players will ensure you enjoy your online baccarat experience.
Are There Any Strategies for Online Baccarat?
There are only two ways a baccarat hand can turn out. The first is that the player bets correctly and wins. If the player is wrong, the only other outcome is the banker wins. Since the outcomes of a hand are very cut and dry, most players agree that there's no such thing as a true baccarat strategy or system. That being said, many players like to follow their own style of play. For example, a player may like to chase big wins with small amounts of money. Other players simply like to pick a flat bet and stick with it for the duration of their play.
Because playing baccarat online is so convenient, the best thing to do is try it out for yourself. As you play more hands, you'll become comfortable with the pace of the game. Giving this game a shot is also the easiest way to test out different approaches and see if there's a specific one you like to follow. If you find a style that makes this game even more fun than it already is, that's probably the one to stick with!